Lee E. Berlik
Managing Member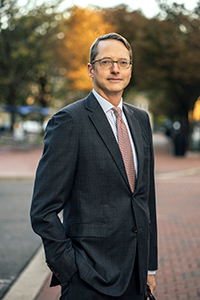 Virginia lawyer Lee E. Berlik is the founder and managing member of BerlikLaw, LLC. After a survey of judges and lawyers throughout Virginia and the District of Columbia, Martindale-Hubbell awarded Lee Berlik the nation's highest and most prestigious legal rating, AV, putting him in the top 3% of all United States litigation attorneys. In 2017, Berlik received Martindale-Hubbell's "Gold Client Champion" award, based on the large number of positive reviews from his clients. Fewer than 1% of attorneys receive this award. In both 2012 and 2013, Virginia Business Magazine recognized Lee Berlik as among the best litigation lawyers in Virginia, including him in its annual list of Virginia's Legal Elite. And in 2014, he was selected to the exclusive Virginia Super Lawyers list in the category of business litigation, an honor bestowed on fewer than five percent of Virginia attorneys. Lee's practice is devoted largely to business litigation, defamation claims, non-compete agreements, and trade-secret disputes on behalf of both individuals and corporations in state and federal courts. He possesses a broad range of experience in numerous forms of commercial litigation, including breach of contract, breach of fiduciary duty, business conspiracy claims, business torts, fraud, and tortious interference. Lee practices primarily from his Reston, Virginia, office and spends most of his time litigating cases in Fairfax County, Loudoun County, Alexandria, Arlington, and the District of Columbia. His clients range from individual victims of Internet defamation to international corporations conducting business in Northern Virginia.
For over 20 years, Lee has been providing effective representation for technology companies, banks, and other small and large businesses in complex litigation and arbitration in both state and federal courts across Virginia and the District of Columbia. Having spent most of his career with large law firms employing 500-750 attorneys, Lee formed BerlikLaw in early 2009 with a mission of offering his clients increased responsiveness, greater value and flexibility, more predictable fees, and better service. Formerly affiliated with Troutman Sanders and Mintz Levin, Lee serves as lead counsel and local counsel in the United States District Courts for the Eastern District of Virginia and the District of the District of Columbia, D.C. Superior Court, and in Virginia state courts for the counties of Fairfax, Loudoun, Arlington, Alexandria, Fauquier, Clarke, Warren, Frederick and others. He is also licensed to practice before the U.S. District Court for the Western District of Virginia, the U.S. Court of Appeals for the Fourth Circuit, and the United States Supreme Court.
Lee is a member of several national, state, and local professional organizations. He served for several years as an editor of the quarterly newsletter published by the Pretrial Practice & Discovery Committee of the American Bar Association's Section of Litigation, and in that capacity received the ABA's Outstanding Newsletter award. His popular business litigation blog, The Virginia Business Litigation Blog, was selected as a "Top Blog" by the LexisNexis Litigation Resource Community and nominated as one to the Top 25 business law blogs in 2010. In 2012, he launched The Virginia Defamation Law Blog. Lee has also served on various committees of the Fairfax Bar Association and has served on the Board of Directors of the Loudoun County Bar Association.
Lee earned his Bachelor of Science in technical communications, with high honors, from Rochester Institute of Technology in 1992. In 1995, he graduated cum laude from American University's Washington College of Law, where he earned his law degree and served on the editorial board of The American University Journal of International Law and Policy.
Lee has lived in Northern Virginia since 1993 and now lives with his wife and three children in western Loudoun County, Virginia. He grew up in The Netherlands and has also resided in Singapore and England prior to moving to the D.C. metropolitan region. In his spare time, Lee can be found playing tennis, biking along the Washington and Old Dominion Trail (of which he is a sponsor), walking his family's Samoyed, or dabbling in photography.
Education
J.D., American University, Washington College of Law, 1995
cum laude
B.S., Rochester Institute of Technology, 1992
magna cum laude
Jurisdictions Admitted to PracticeVirginia
District of Columbia
United States District Court, Eastern and Western Districts of Virginia
United States Bankruptcy Court, Eastern District of Virginia
U.S. Court of Appeals, Fourth Circuit
United States Supreme Court

Professional & Bar Association Memberships
Loudoun County Bar Association
Board Member 2008
Fairfax County Bar Association
Virginia Bar Association
American Bar Association

National Employment Lawyers Association

Reported Cases
E.M. v. Shady Grove Reprod. Sci. Ctr. P.C., --- F.Supp.3d ----, No. CV 19-657 (RC), (D.D.C. Oct. 21, 2020)
Handberg v. Goldberg, 297 Va. 660, 663, 831 S.E.2d 700, 703 (2019)
Hotung v. Hotung, 2014 WL 11398527 (Va. 2014)

Gov't Strategy & Tech., LLC v. O'Donnell, 84 Va. Cir. 223 (2012)
Unistaff, Inc. v. Koosharem Corp., 2009 WL 3233419 (Slip Copy, E.D. Va. 2009)
MIZ Engineering, Ltd. v. Meir Avganim v. Noble Security, Inc., 2007 U.S. Dist. LEXIS 75350 (E.D. Va. Sept. 28, 2007)
WAKA, LLC v. Humphrey, 73 Va. Cir. 310 (Fairfax May 2, 2007)
Rescue Phone, Inc. v. Enforcement Technology Group, Inc., 2007 U.S. Dist. LEXIS 49401 (E.D. Va. July 9, 2007)
WAKA, LLC v. D.C. Kickball, 517 F. Supp. 2d 245 (D.D.C. 2007)
IPXL Holdings, L.L.C. v. Amazon.com, Inc., 430 F.3d 1377 (Fed. Cir. 2005)
Ciphertrust, Inc. v. TruSecure Corp., 2005 U.S. Dist. LEXIS 46322 (E.D. Va. Nov. 28, 2005)
Carlton Q. Brown, M.D. v. Physicians Surgical Alliance, Inc., 2003 Va. Cir. LEXIS 266 (Loudoun Dec. 15, 2003)
Fordham v. Onesoft Corp., 2001 WL 641759 (E.D. Va. Jan. 24, 2001) (not reported in F. Supp. 2d).
Activities
Editor, American Bar Association, Section of Litigation, Pretrial Practice and Discovery Committee's Quarterly Newsletter


Recipient, ABA's Outstanding Newsletter Award, 2001-2002


Editor, The American University Journal of International Law and Policy, 1994-1995


Contributing Author, Employment Law, Annual Review of Developments in Business and Corporate Litigation, 2006


Co-Author, ABA Proposal Muddies Pretrial Publicity Waters, National Law Journal, August 15, 1994


Coach, Loudoun Soccer (formerly Loudoun Youth Soccer Association), 2006-2008


Sponsor, Washington and Old Dominion Trail